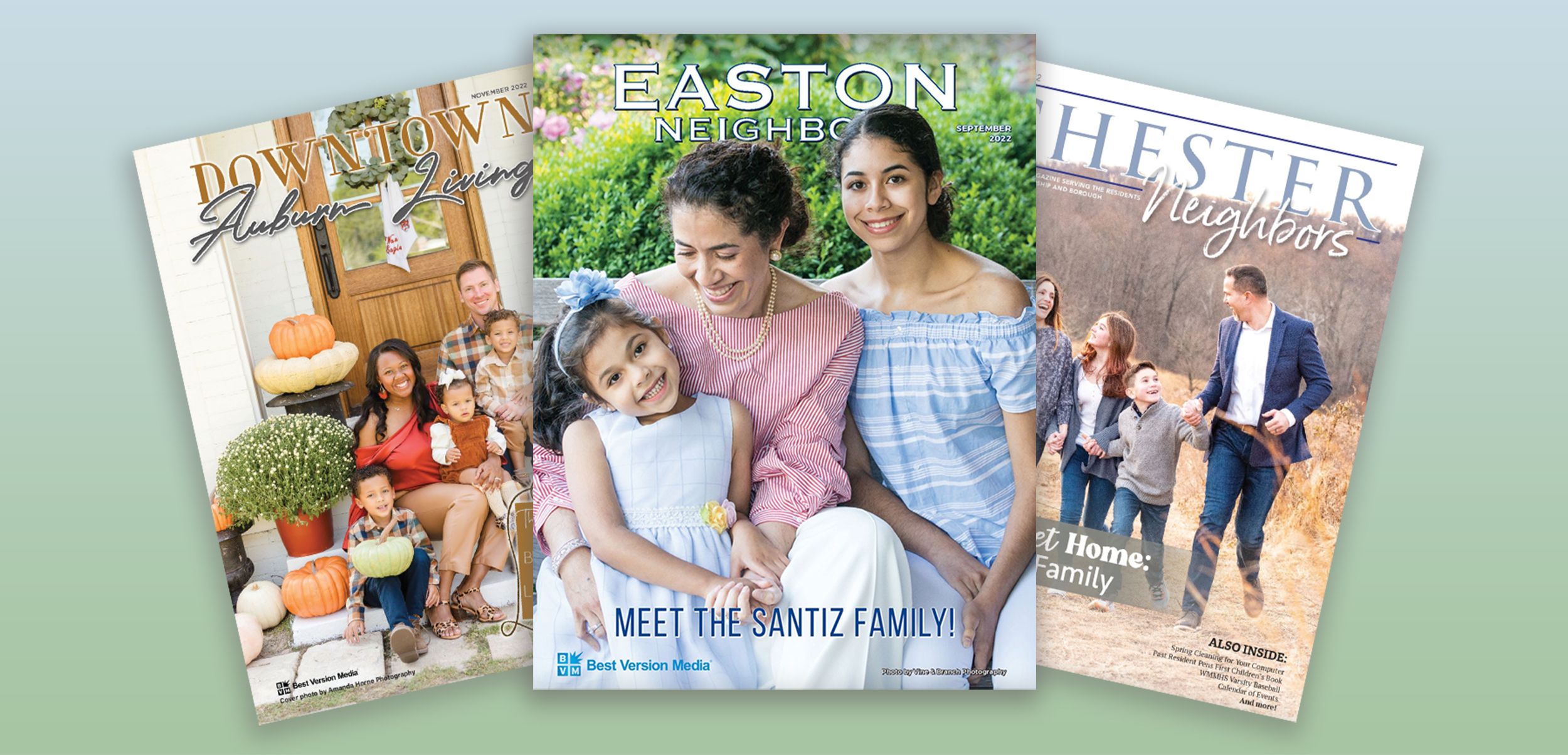 BVM Magazines: What Our Feature Families Are Saying
BVM magazines connect thousands of businesses and residents through positive, family-friendly content every month. Each new magazine edition showcases a local family who we call the Feature Family. This family works with a professional photographer and the magazine's Content Coordinator to craft an article about their history, their passions, and what connects them to the local neighborhood. Take a look at what people are saying about the Feature Family experience:

"THE BEST! From start to finish. They are all very professional, knowledgeable and caring. They were accommodating to my difficult schedule and compassionate through my family's challenge. They are a great resource to get to know your fellow neighbors!" – Charlene

"We were featured in the February edition of our local magazine. Several residents have remarked how much they liked the article, and jokingly asked if we would give them an autograph. We have sent many of the magazines to friends and family members out of state. Thanks for the opportunity." – Pamela

"We have been featured two times now. Both times have been absolutely amazing! Not only did [our photographer] take incredible photos, she was great with our son! If you haven't been featured, I highly recommend it!" – Carolyn

"The team was very professional and easy to work with! I appreciate the opportunity to be in the magazine and for the great family picture." – Jeanice

"We were featured in one edition and could not have enjoyed the experience more! The staff was personable, professional, and very attentive. The magazine does a wonderful job of connecting local businesses with the town and county residents, sharing valuable feedback, and making us aware of area events and activities. We very much enjoy reading the magazine when it is published every month and have nothing but the warmest regards for the team at BVM!" – Felipe

"Everything was great! The team and photographer were very easy to work with. I'm so glad our family was able to participate in this." – Emily

"Our family was featured and it was a fabulous experience! The magazine looks amazing, the contents of the articles are great and fun. The photography was so creative and unique. A great experience for my family. We really enjoyed being involved! I ordered extra copies of the magazine and they arrived quickly and in pristine condition!" – Lee-Anne

"We had such an excellent experience working with Best Version Media. The team, photographer and editor were all amazing, so friendly and welcoming. I highly recommend them to anyone!" – Alexandra

"Our family was honored to be featured in [our local magazine]. The team at Best Version Media were extremely easy to work with and made sure to provide updates along the way. We truly hope that this publication is here to stay and expand. We want to know our community and meet all of our neighbors." – Shaundra
Visit our website to take a tour of our local magazines and don't forget to follow us on Facebook, Instagram and LinkedIn to see our amazing magazine covers!