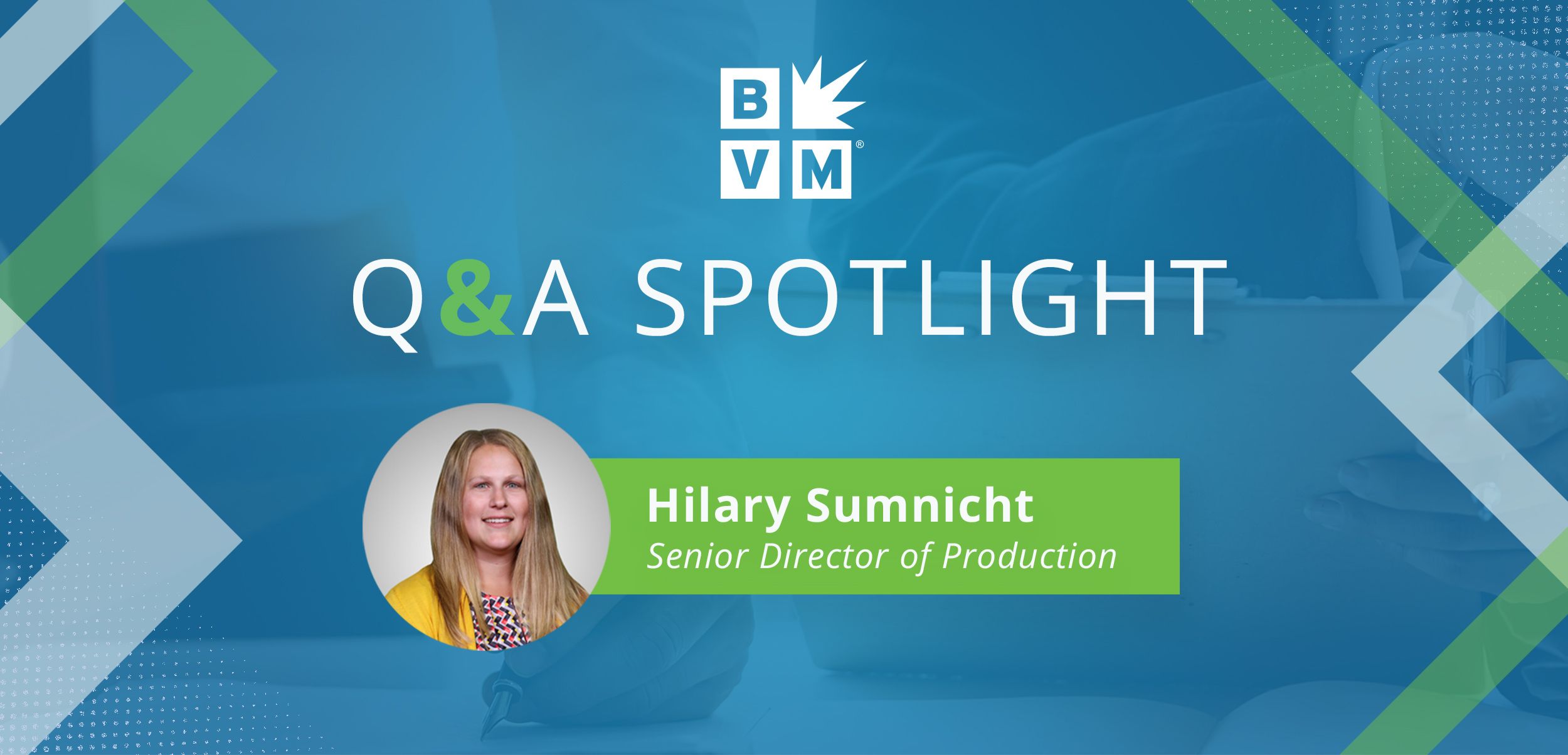 Q&A Spotlight: Hilary Sumnicht
Q: Tell us about yourself!
A: I'm a dog mom to two boxers named Penelope and Watson. We love to go on long walks and we start each day with one so they are tired out and I have quiet time to work! In my free time, I enjoy biking, gardening and hanging out with my friends and family.
Q: What year did you join BVM? What was your first role at the company?
A: I started as a Designer with BVM in April 2009. Paul Lubinski (CPO) called me on April 1 to offer me the job – my family thought I was joking about it all day!
Q: What is the best part about working with Best Version Media?
A: The people! I love helping others and watching them grow and succeed. Whether that's teaching something new, guiding someone through a process, listening to feedback, offering solutions or being a mentor – interacting with our phenomenal team members is the best part of my job!
Q: Describe your role as the Senior Director of Production.
A: As the Senior Director of Production, I work closely with the Design Managers to make sure everything is operating efficiently and the magazines are staying on the production schedule. We are constantly thinking of ways to improve processes and make things as easy as possible. I also serve as a resource for anything related to design and production.
Q: How do your award-winning Designers contribute to the magazines?
A: Our Designers play such an integral role in the magazine process. Their creativity and problem solving abilities to piece together the puzzle of a magazine layout in such a quick turnaround time is outstanding. On top of that, they provide great customer service and support to BVM clients and the teams they work with. I'm so proud to work with such an amazing group of talented people!
Q: What keeps you motivated?
A: BVM is constantly growing, adapting and progressing. Our leadership team encourages forward thinking and promotes constant "kaizen" (meaning improvement) which is so motivating as an employee to know that our ideas can be heard and often implemented.
Q: Describe the BVM culture in your own words.
A: I think BVM's culture comes down to simply treating others with understanding and respect. Each individual brings a different perspective and everyone is a valued member of the team.
Q: What have you gained (personally or professionally) from working at BVM?
A: I was still in college when I joined Best Version Media so I've really grown and matured with the company! So much of my work ethic stemmed from how driven Pete Ericksen and Paul Lubinski were in those initial years, and that scrappy work ethic still shows within the company today. I was able to learn so much about problem solving, leadership and being confident in decision making from the leaders within the company.
Q: What is an accomplishment that your Design Department has achieved in the last few years?
A: We started entering the Design Team's work in design competitions and it's been great to see their hard work recognized and rewarded! Year after year, they've been recognized by Graphic Design USA and the Great Lakes Graphics Association.
Q: What three words best describe the Design Department?
A: Creative, fun and hard working.