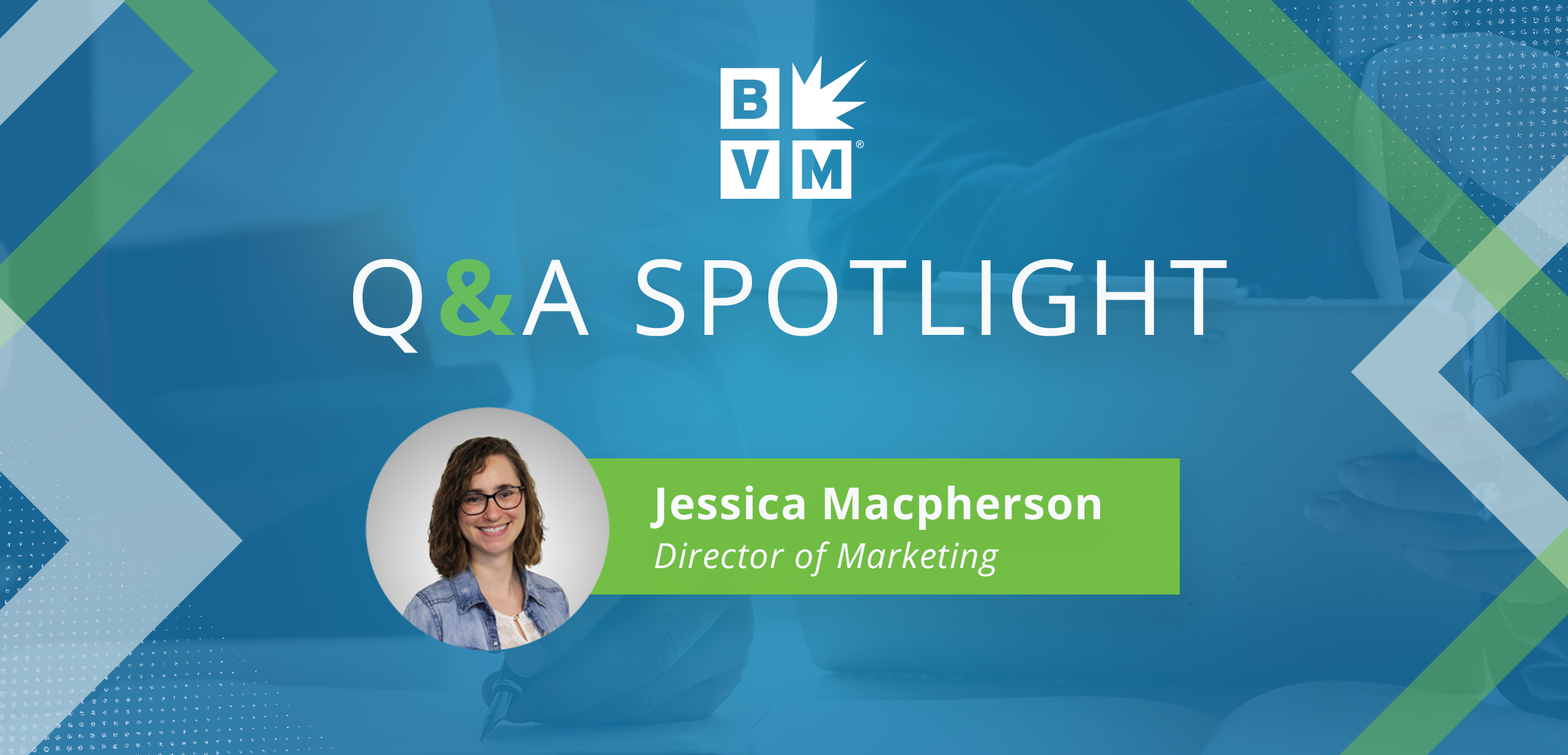 Q&A Spotlight: Jessica Macpherson
Q: Share a little about yourself!
A: I grew up in Waukesha, Wisconsin and have a Bachelor's degree in Graphic Design with a minor in Marketing from Concordia University Wisconsin. When I first started my education at Concordia, I was originally going to follow in my grandfather's footsteps to become a pharmacist. After a semester into my studies, I found that I didn't have passion for it and went to explore options around photography. Through Concordia's co-op program with the Milwaukee Institute of Art and Design, I was able to dive into graphic design and the rest is history!
On the weekends, I enjoy finding new state and county parks as well as playgrounds to explore with my husband and two young daughters.
Q: When did you join BVM? Where did you work prior to joining the company?
A: I joined BVM in 2017 as the only graphic designer at Home Office. In 2020, I became the Director of Marketing when a few internal teams merged together to form the Marketing Department. Prior to joining BVM, I worked in the marketing department as a graphic designer for a local chemical company. While I was there, I was able to work on a variety of projects such as assisting a rebrand of their cleaning products, shooting and editing videos, and creating their website which they continue to utilize today.
Q: What drew you to Best Version Media and made you want to work here?
A: When I first read the job posting for BVM, I thought it was too good to be true. I always had a passion for magazines because you get to design something and actually hold a final product in your hands. On top of that, it was unheard of to work for a company with unlimited vacation and sick time. Once I interviewed with Paul (CPO) and Katie (VP of Production), I knew I had to work here. The one interview question that really stood out to me was when Katie genuinely asked, "Outside of work, tell me about you!" That was the first time in an interview where someone had shown interest in me as a person and not just about my skill level.
Q: Tell us something surprising or unique about yourself.
A: When I was little I used to watch my grandma create stained glass pieces, which she later taught me how to do. Once I got into graphic design, I realized that I could design the patterns to work off of. I've now designed and created three large-scale windows, two smaller windows for a TV console, some suncatchers and a crazy outdoor project using a bike wheel.
Q: Describe your role as the Director of Marketing. What does the team do?
A: The Marketing Department contains Internal Design, Video, Social Media, Public Relations and Events. Our job is to create and maintain a consistent brand image across the company.
Being the Director of Marketing is a welcomed challenge as each day is different. I get to lead my team on a variety of projects from marketing a new product to creating and hosting internal events for our Publishers. However, my favorite thing about the role is helping develop each member of my team to get them where they want to be professionally.
Q: What's your favorite part about working with Best Version Media?
A: My favorite part about working at BVM is the people. Everyone is so genuine and wants to get to know you outside of work. I find that this creates a better sense of respect and understanding when working together.
Q: Who or what motivates you to get up in the morning?
A: My two girls are my biggest motivation. I want to show them that they can accomplish anything while not having to sacrifice time with family.
Q: What have you gained (personally or professionally) from working at BVM?
A: Being given the opportunity to lead the Marketing Department so young has been extremely challenging and has put me in uncharted waters – but I love it! With each new experience comes discomfort and growing pains, but in the end it builds confidence to take on the next adventure.
Q: What three words best describe the Marketing Department?
A: Fun, determined and understanding.