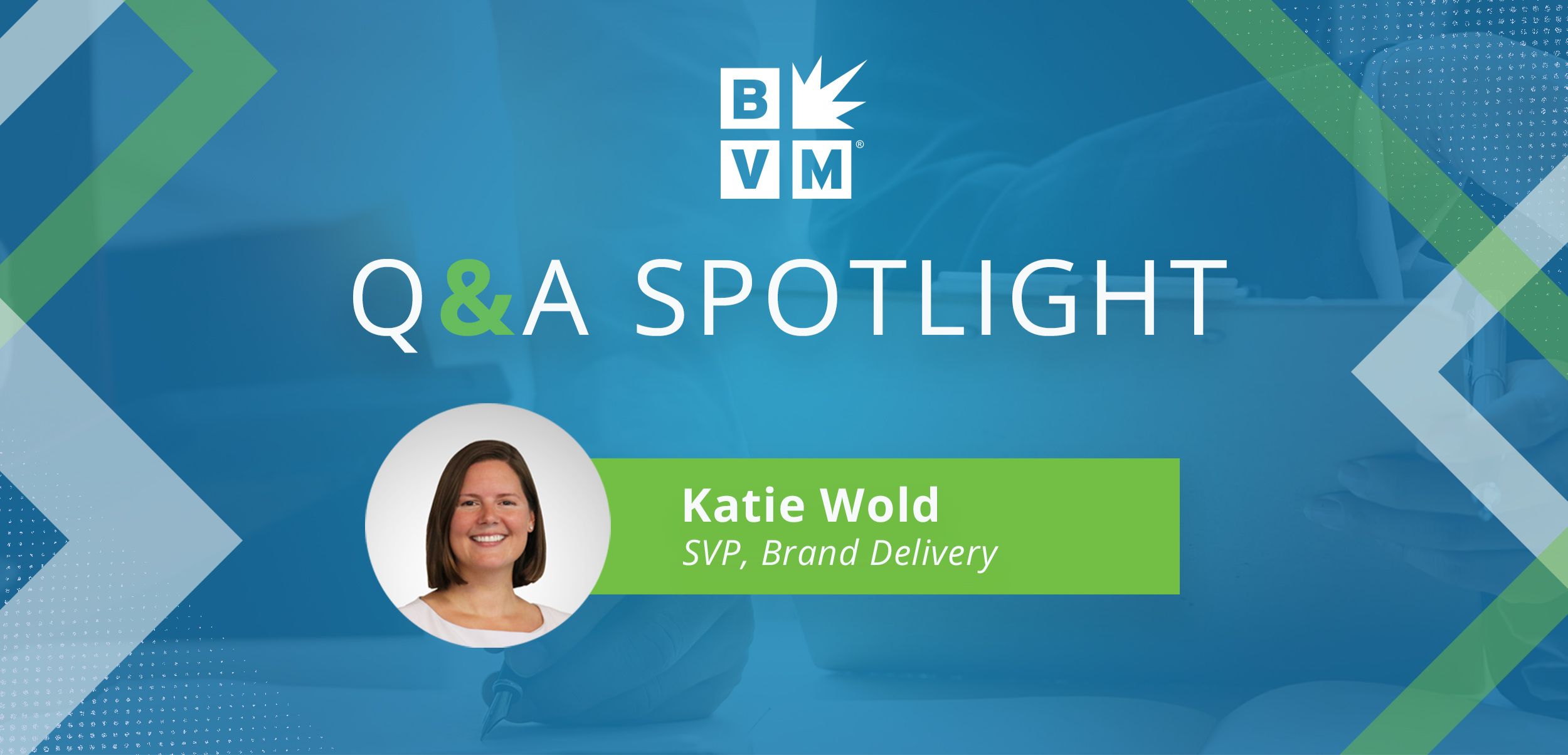 Q&A Spotlight: Katie Wold
Q: Tell us about yourself. Anything you'd like to share!
A: I'm a mother of two children, Elizabeth (9) and Ian (7). I have been married for 12 years to my best friend, Geoff, who is a General Manager at a used car dealership. The four of us love to hang out with our 1-year-old Goldendoodle, Penny. Our weekends are filled with kids activities, and because Geoff works on Saturday, Sundays are our favorite day of the week. We live in a community filled with lakes that are easily accessible, and most Sundays in the summer we are outside trying to find water to swim, play and relax on. My weeks are very busy and I love every minute of it.
Q: What year did you join BVM? What was your first role at the company?
A: I started here as a graphic designer. I met the founders of BVM at a print shop, and that was when BVM had only 10 magazines! I was a Designer for BVM magazines for several years and I loved it.
Q: What is the best part about working with Best Version Media?
A: The people – including everyone from the newest Associate Publisher to the employees who have been here from the start. The people are the best part of working at Best Version Media.
Q: Describe your role as the Senior Vice President of Brand Delivery.
A: I'm responsible for the production of our magazines and our digital advertising. My role includes ensuring all of our client's brands are represented, distributed, and displayed properly. The content of the client's expert articles, the impressions on a digital ad, the creative layout of the magazine and the delivery of the client's ads are all important functions of my role.
Q: What are the unique benefits of print media?
A: Stability. Digital is needed, but so is print. The advertisement cannot just be swiped past and never seen again. Clients tell us over and over how the print ad in the magazine created leads that they were unable to obtain through other channels. Print is easy to view, revisit and save, so it has an important place in our media industry.
Q: Who keeps you motivated?
A: My family. I have a lot of internal motivation for success, but that is accelerated by my family. My parents are very hard workers and I respect that mentality of giving it your all. I learned a lot from them and I hope my children see that hard work really makes a difference in the world. That's what keeps me motivated.
Q: Describe the BVM culture in your own words.
A: This is such a hard question to answer because I could go on for pages and pages of what the culture is like here at BVM. I mentioned before that the people are the best part of BVM and I think that is the heart of our culture. The right people in the right position is where our best growth happens. We have moved people from one position to another because we know they are the right people, just not in the right place. That speaks volumes about our company. We treat each other with respect and kindness and it shows. I love coming to work each day, to see my team, my coworkers, and to talk to our independent contractors. These are a few things about our culture that makes BVM stand out.
Q: What have you gained (personally or professionally) from working at BVM?
A: Personally, I have gained friends. I have worked with some of these people for almost a decade and created some lifelong friendships from this job. Professionally, I have grown through multiple different positions and learned leadership skills that I knew I had, but the opportunities to hone those skills and get better at them every day is where I have felt true professional growth. BVM has given me the opportunity to improve myself, challenge myself, and to see how far I can go as a professional.
Q: In your opinion, what three words best describe a typical BVM magazine?
A: Heartwarming, informative and beautiful.