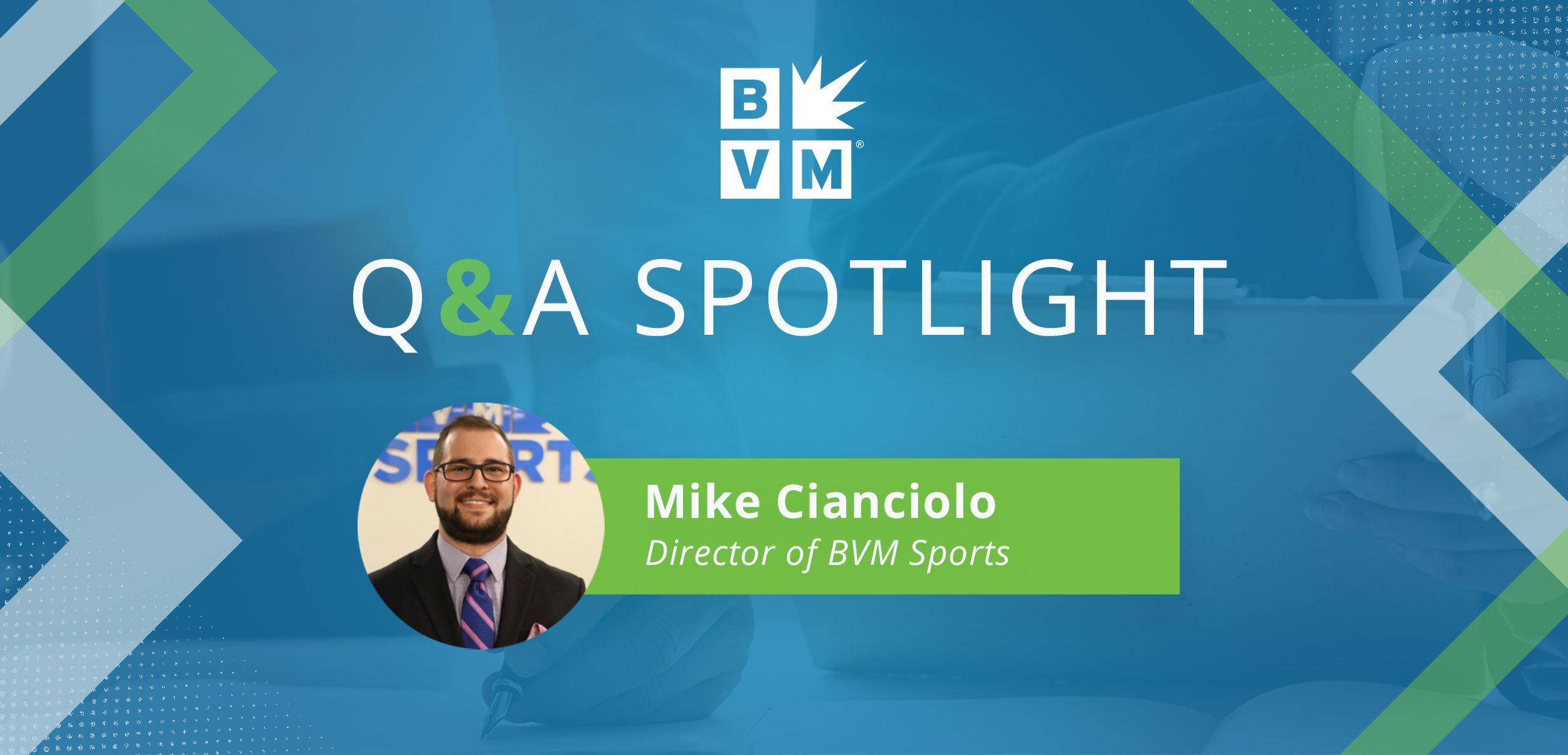 Q&A Spotlight: Mike Cianciolo
Q: Tell us about yourself!
A: I'm from Pewaukee, Wisconsin and I have a Bachelor's degree in Broadcast and Electronic Communication from Marquette University. I enjoy spending time with my wife, Francesca, and our son, Anthony.
Q: When did you join BVM? Did you come from a sports media background?
A: I joined Best Version Media in January 2020 to lead the BVM Sports team. I've been involved in sports media since my time as a student at Marquette University. After graduating in 2016, my professional career began as a Sports Anchor/Reporter for KALB-TV in Alexandria, Louisiana. I spent over a year there before moving back to Wisconsin in the same role working for WEAU 13 News in Eau Claire.
While working in local TV, I covered everything from high school state championships to the Final Four, College World Series, NLCS and Super Bowl. It was always fun covering the big events, but it was just as rewarding getting to know the players and coaches in the local community by telling their stories and showcasing their highlights.
Q: In your opinion, what's the most exciting part about BVM Sports?
A: The most exciting part of BVM Sports is that we're always finding new ways to improve and give our users the best product possible. You're not going to find the type of coverage we provide across a multitude of sports from pee wee to the pros anywhere else.
Q: Describe Best Version Media's culture in your own words.
A: BVM's culture is unlike any other employer I've been affiliated with. We aim for success and celebrate achievements, but always remain humble and hungry. You'd be hard pressed to find a BVM employee that doesn't exemplify our three pillars: professional will, compassionate heart and fun-loving spirit. There's a ton of team players willing to help others accomplish the task at hand.
Q: What makes BVM Sports unique from other media outlets?
A: What makes BVM Sports unique is that we're not just about the Xs and Os or the box score – we're also introducing fans to the person behind the athlete or coach. They're human, just like you and me, and sometimes it helps to pull the curtain back and show others that they're quite relatable or awe inspiring off the field as well.
Different from other national-reaching platforms, we feature localized content to all users based on their postal code to tailor their experience online, even if they aren't signed into a BVM Sports account. Their location can be manually changed at any time to adjust the content suggested for any area.
Q: Talk about the growth of BVM Sports since it launched in July 2020.
A: Media outlets are always changing and evolving and BVM Sports is no different. When we launched the website in July 2020, we were itching to get our original content out into the world and we haven't looked back. We're excited to have a new user-interface for both mobile and desktop browsers that matches our high-quality content. The website eclipsed 2 million total visitors this year and we're looking forward to delivering even more engaging content to bring in many more millions in the months and years to come.
Q: What inspires you to become the best version of yourself?
A: There's nothing more rewarding or validating than when you get feedback from athletes, parents or readers that shows the impact and importance of your work. It's one thing to think or generally know what you do makes a difference, but it's another to be told it from a third party. That really motivates me to become the best version of myself.
Q: What do you like most about our leadership team at BVM?
A: I love that BVM's leadership team is full of folks that genuinely care about each other – not just as coworkers, but people – and their successes. They're also a fun group that you can have a drink with!
Q: What have you gained (personally or professionally) from working at BVM?
A: Personally, I've gained a lot from working at BVM. When I was doing TV, I worked weeknights and weekends and always felt far away from home. While being on-air may seem glamorous at times, it wasn't very conducive to having a personal life. I'm definitely grateful to have found a home with BVM. I've got my own family now and it's great to have family nearby. I truly enjoy being with my work family as well (whether in the office or virtually).
Q: What's your proudest accomplishment with BVM Sports?
A: My proudest accomplishment with BVM Sports is seeing the team grow in the past two-plus years. It's incredible to think that this idea from Dave Durand came to fruition, and still has so much potential, but has gotten to where it is with the help of so many different people that have stopped at nothing to make it succeed.